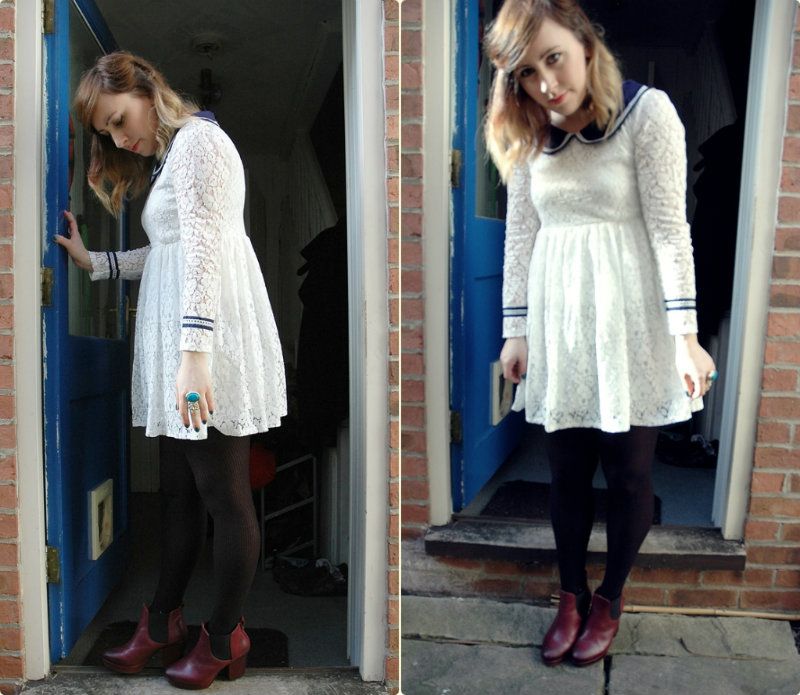 Dress-Ever Ours|Boots-Topshop Allegras|
Hey guys,
I brought this dress a few months ago and only wore it once before storing it away in my overpacked wardrobe. Since sorting my wardrobe ready for our move, i've re-found so many lovely items I hardly ever wear. I've also made the decision to sell anything I haven't worn in the past 6 months,that I brought on impulse, or has no sentimental value. That way i'll have more money in my pocket when I go back to uni and I will be able to afford new clothes too, so check out my new
Joséphines Wardrobe
section on my blog daily as i'll be putting things up on Ebay and linking them in Joséphines Wardrobe. I would rather just do a blog sale, but I need to sell everything before I move so for now there on Ebay.
Anyway back to the outfit,
Ever Ours
is such a lovely little store. I brought this after seeing it on a few other bloggers and fell in love with it! I love all things lace and I think the sailor element of it is really cute. This is what i'm wearing to go out for drinks tonight with friends, i've had such a friend filled day. I spent the day with my lovely friend Panna shopping in Lincoln, I stocked up on Topshop accessories as the sale was on.. would be rude not to! I also got a necklace and top from Primark.. i'll take some photos tomorrow when the lighs better. I took these photos earlier when I was trying on outfits deciding what to wear tonight, before I went out shopping. The sun made an apprearance and I knew I wouldn't have time and the light would be rubbish later.
Right i'd better go meet my friends :)
Love Jo. xx