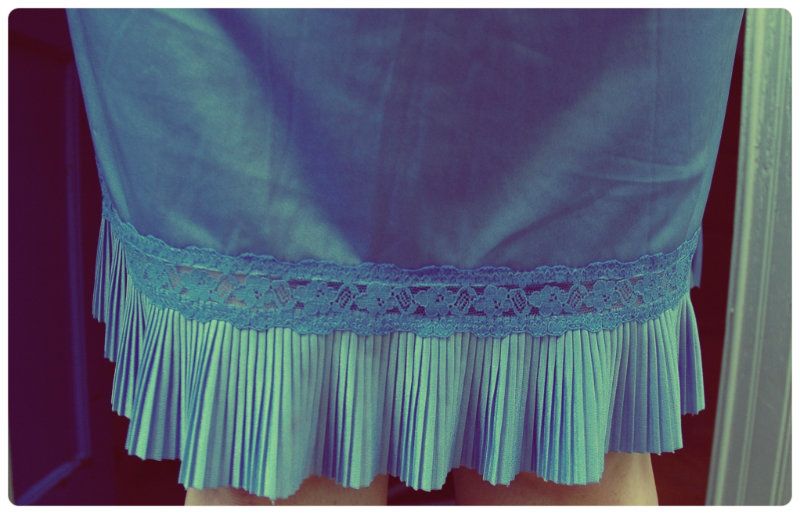 Blouse-Charity shop|Skirt/Slip-Charity shop|Shoes-Charity shop (Topshop)|
I managed to get outside and take these when it was lovely and sunny earlier, the weather has now taken a turn for worse... possibly because it knew i'd hung some washing out.
This outfit completey consits of items brought from my local chairy shops. The blouse is a firm favourite with me, I love its cute collar.. it also looks great layered undernearth jumpers and cost me £3.00. My skirt is actually a vintage underslip, I think its too pretty to hide under clothing. What do you think? its not sheer at all and I love the detailing on the bottom this cost £1.00. The shoes are originally from Topshop and cost me £3.50, they are practically unworn and so comfortable. I don't think this is a bad outfit considering in total it cost me £7.50 and was the ideal outfit for wondering around town (well before it rained). I didn't realise how bad my hair looked.. I swear it wasn't as bad in person..hehe. Anyway its about the clothes isn't it!?
I'm finding that knowing i'm moving in 2 weeks is making me feel so nesty.. i'm spending so long on the computer searching for homewares. This is the first home where me and my boyfriend get to pick everything and style the house ourselves.. our current house is my boyfriends mums, so everything is hers. Do any of you know of any websites that sell really nice reasonably priced homewares? I just want to get into our new home and start painting and making it perfect. Although once we've settled in it'll nearly be time for me to head back off to uni.. then I need to sort that house out as well..hehe. Oh so many things to buy and so little money to buy them with, I can see carboot sales being my saviour.. their great for picking up vintage furniture.
I'll be putting Ebay items up over the next couple of days so i'll let you know when there up :) I need money for my house.. i'm even selling my running machine :( but needs must and all that!
Hope you've all had a lovely day :)
Love Jo. x