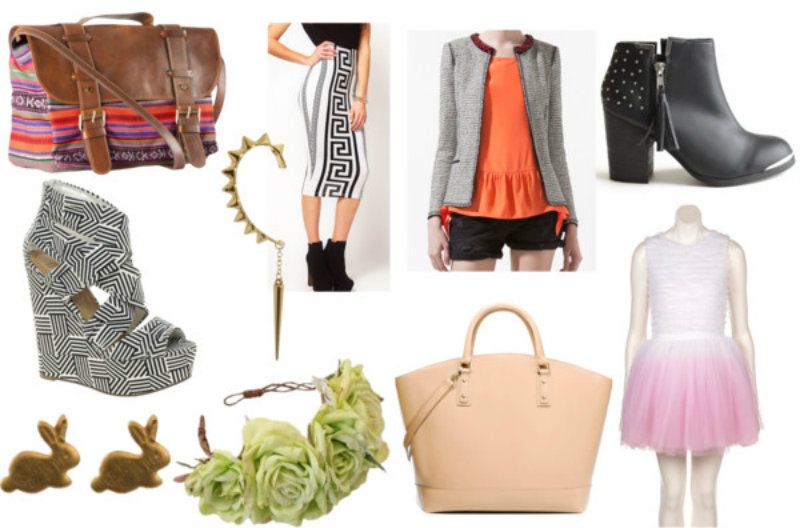 Clockwise L-R - Navajo Bag
-H&M
£15|Aztec Print Skirt
-ASOS
£18|Blazer
-Zara
£39.99 (on sale)|Studded Boots
Thread Sence
£48.65|Dip Dye Dress -
Topshop
£75|Bag -
Zara
£39.99|Floral Crown -
Rock n Rose
£38|Ear Cuff -
Lavish Alice
£11|Rabbit Earrings -
Rock n Rose
£8|Wedges -
ASOS
£48|
Hey guys,
Sorry I didn't update my blog yesterday, I was in bed with a bad tummy bug :( but i'm felling much better now! and since the sun is out I may even try eating some BBQ food later and then were going to see Batman tonight.. whooo :) am I well enough for nachos.. I think I am!! :)
So here is this weeks wishlist :) all items are linked above in
bold
*I love this navajo print bag from H&M, I just love anything with an aztec/navajo print and this would be good for carrying around uni books.
*I missed out on the dress version of this skirt, Jessie J wore the dress version on The Voice and sold out straight away! I reckon you could wear this skirt as a dress too and it would still end just above the knee. Its a great price too at £18.00
*Ahhh the Zara sale, they really do have the best sale. This blazer is now 39.99 down from 89.99, I really love boucle jackets and the collar detailing is stunning on this one. Plus as its Zara you know its going to be great quality and last forever.
*These studded boots are exactly the same as the -
physic boots from Topshop
except these are around £40 and the Topshop versions cost £95.00.. I love everything about them!!
*I'm really loving seeing everyones homemade dip dye projects on blogs recently. I was looking at Topshops new arrivals earlier and this one caught my eye. Ok its quite expensive at £75, but its really inspired me to try a dip dye project of my own :)
*I love this Zara bag, its so simple, chic and you'd be able to fit so much in it. This bag would also go with everything!
*Ear cuffs have been a trend i'm not too sure about, they don't seem to sit on my tiny ears very well, but this one from Lavish Alice is really tempting me! what do you all think to ear cuffs?
*The floral headband and rabbit earrings are from Rock n Rose, I just love floral headbands and this mint coloured one really caught my eye. The rabbit earrings are just the cutest thing i've ever seen!
*The wedges from ASOS are my favourite thing on this wishlist. I love a nice wedge, I find them so much easier to walk in on a night out. The print on these are amazing and they would go with so much and brighten up a plain outfit.
What do you think to my wishlist :) and do you think I should attempt my own dip dye dress project? :)
Hope your all enjoying the lovely weather were having, i'm off to do some gardening :)
Love Jo. xx